Sibling Superbike Racers Andrew and Glenn Irwin Swap Circuits For Roads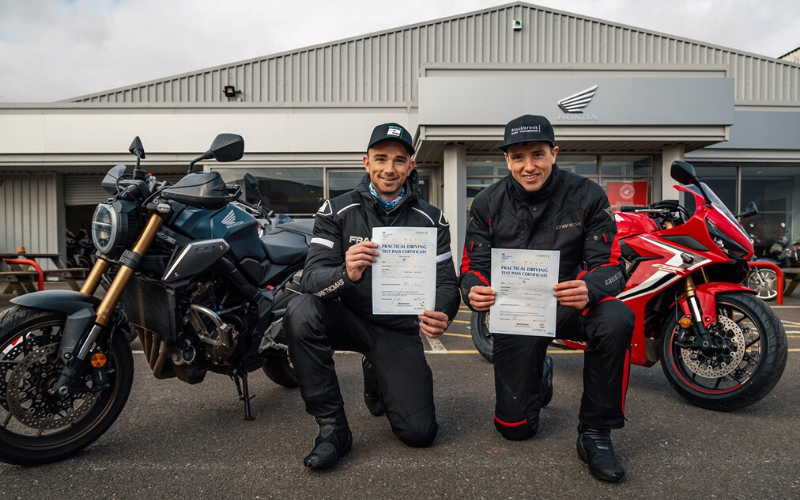 Andrew and Glenn Irwin have taken to the public roads to successfully pass their motorcycle tests, using a Honda CB650R and CBR650R.
Andrew passed his CBT last year through Honda's School of Motorcycling and spent time gaining road experience aboard the entry-level CB125R. Meanwhile, Glenn completed his CBT training with Moto Training NI last month.
Vertu Honda Bikes is proud to be one of Glenn's sponsors for the coming races this year.
Embarking on a fast-track course, the brothers had an extensive few days of training before both passing the module one and module two assessments, thanks to Grantham Honda and Alpha Training/Honda School of Motorcycling, and can now remove their L-plates as Spring arrives.
Watch as Andrew and Glenn are put through their paces during their motorcycle training and test:
The Honda pairing will now be able to ride the all-new CBR1000RR-R Fireblade SP on the road, as well as competing in the British Superbike Championship, and Glenn at the North West 200 and the Isle of Man TT races.
Isle of Man newcomer Glenn has used the experience as an extension to his TT training helping to learning the course, as well as being able to travel easily to and from the paddock during the races.
The brothers will be back in action in the British Superbike Championship soon, with the season start currently delayed until the end of April at the earliest.
To see our great deals on New Honda Motorcycles here at Vertu Honda Bikes, click below:
The Honda School of Motorcycling, at Vertu Honda Grantham, offers a full range of courses from Compulsory Bike Training through to full licence courses, so no matter where you are in your riding career, it has a course that is right for you. Find out more, here.