The All-New Mercedes-Benz EQS Has Arrived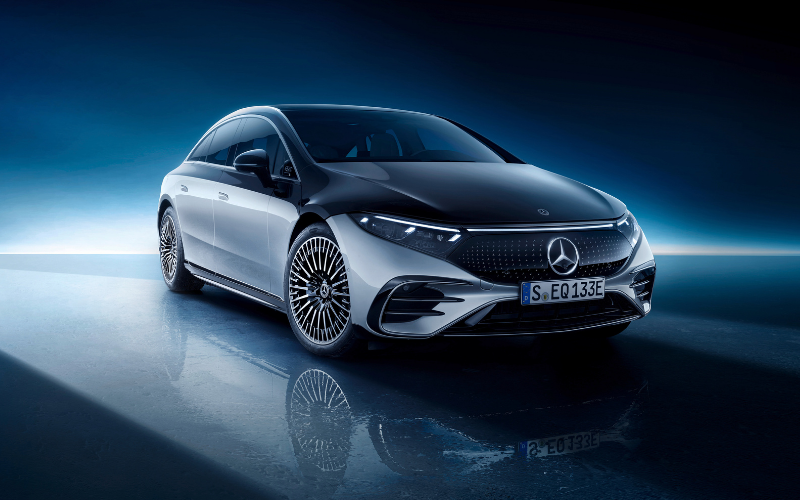 The highly anticipated all-electric luxury saloon has finally arrived – meet the all-new Mercedes-Benz EQS.
Fusing technology, design, functionality and connectivity, the all-new EQS is set to 'delight' both drivers and passengers.
Supported by artificial intelligence (AI), the new EQS makes everyday life easier in many ways. From design to performance, find out what makes it special:
Design
The all-new Mercedes-Benz EQS is set apart from any other Saloon on the market; it's the first model based on the Mercedes's new modular architecture for luxury and executive-class electric vehicles.
Boasting sleek curves and smooth lines, the EQS comes with a confident and sophisticated stance; even the pop-out door handles complete the look.
The new Mercedes-Benz EQS also boasts the familiar front trim seen on the popular all-electric Mercedes models already available – the EQC and the new EQA.
Similar full-width daytime running lights can also be seen, whilst the intakes across the front bumper are resemble the ones on the formidable S-Class.
To the rear, the brake lights stretch the whole width of the EQS.
You can also expect 19-inch wheels as standard, however 22-inch options are available.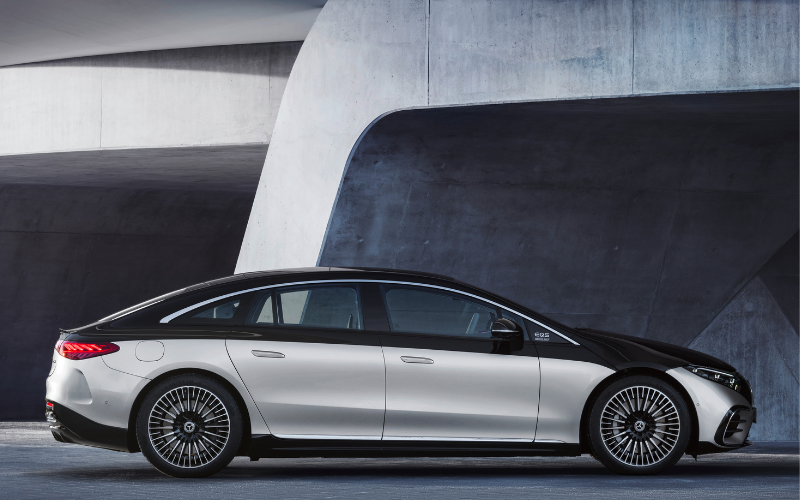 Interior
Most would say that the all-new Mercedes-Benz EQS has one of the most futuristic interiors of any new car on offer – especially with its incredible infotainment screen.
Being slightly taller and longer than the S-Class, the EQS feels very spacious, especially with the optional panoramic glass roof fitted.
A range of eight different colour combinations for the interior are available, plus there are 190 LEDs around the cabin to customise.
Premium materials and trim options give you plenty of chance to create an EQS best suited to you and your taste.
Click here to learn more about the all-new Mercedes-Benz EQS's interior.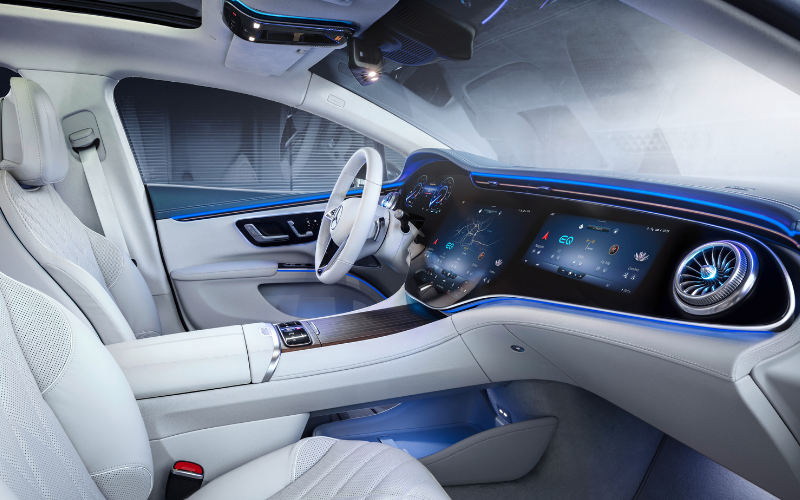 Technology
The Mercedes-Benz EQS houses the same infotainment system as the all-new S-Class as standard, so expect a state-of-the-art 12-inch driver's display and an impressively intuitive 13-inch portrait touchscreen.
If desired, you can option Mercedes's new Hyperscreen infotainment system, which boasts 3 seamless built-in screens across both driver and passenger. This includes an incredible 18-inch central touchscreen.
The Hyperscreen's system holds the latest version of Mercedes-Benz's infotainment system, offering smartphone mirroring and intelligent satellite navigation features.
It also includes the upgraded 'Hey Mercedes' feature, which can understand 27 languages even remember your voice patterns.
Other technology features include a new facial-recognition system, which can determine who's driving and load their personal settings automatically. It can also detect if you're trying to look at the passenger's display, and automatically dim it to make it less distracting.
Optional 12-inch screens for rear passengers are also available in the all-new EQS, so no one feels left out.
Performance
The all-new (entry level) Mercedes-Benz EQS 450+ is a rear-wheeled drive that delivers 333hp and can sprint from 0-60mph in just 6.2 seconds.
Upgrade to the EQS 580 4Matic and expect the four-wheeled drive version to produce 523hp using its two electric motors. It is also capable of doing 0-60mph in an incredible 4.3 seconds.
We can expect an AMG version of the EQS at a later date, expected to offer an outstanding 761hp – more updates on this will be coming soon.
Range
The all-new Mercedes-Benz EQS will come with a strong 108kWh battery as standard, which will deliver up to a very impressive 478 miles of all electric range.
Mercedes has also declared that they'll be launching an EQS with a slightly smaller 90kWh battery, later in the year, which will offer about 400 miles on a full charge.
Whichever battery you go for, you'll be able to get the new EQS up to round 50% charge in just 15 minutes when using a rapid charger (the kind found at most public charging spots).
At home, the standard 11kW charger that comes with the EQS will let you fully charge up over about 10 hours. You can request to purchase a 22kW charger, fully charging the EQS in just 5 hours, if desired.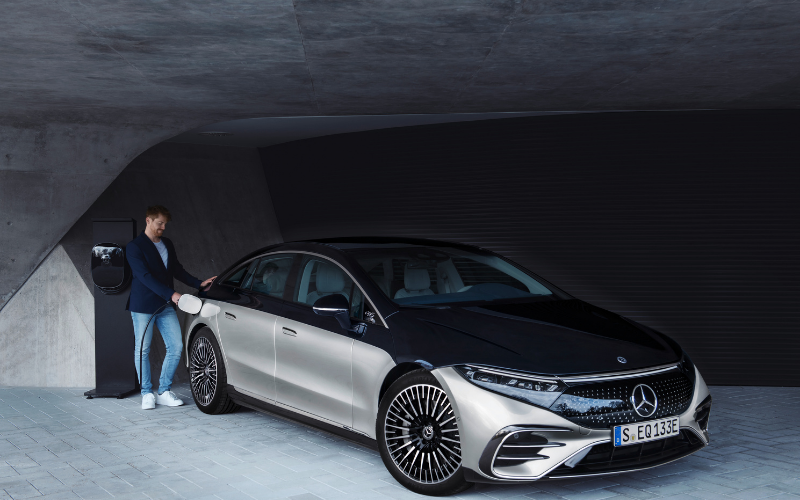 The all-new Mercedes EQS will be hitting UK shores very soon, with orders set to open in summer this year.
Prices will start from around £80,000 for this luxury, all-electric performance saloon.
If you'd like to register your interest in the all-new EQS, please don't hesitate to contact your local Vertu Mercedes-Benz retail site:
Equally, if you'd like to learn more about hybrid and electric vehicles, click the link below:
Learn More About Electric Vehicles
Here at Vertu Motors, we'll make sure to keep you in the loop with all the latest Mercedes-Benz updates, as and when we get them – stay tuned!