The Kia E-Niro Wins Best Small SUV At The What Car? Electric Car Awards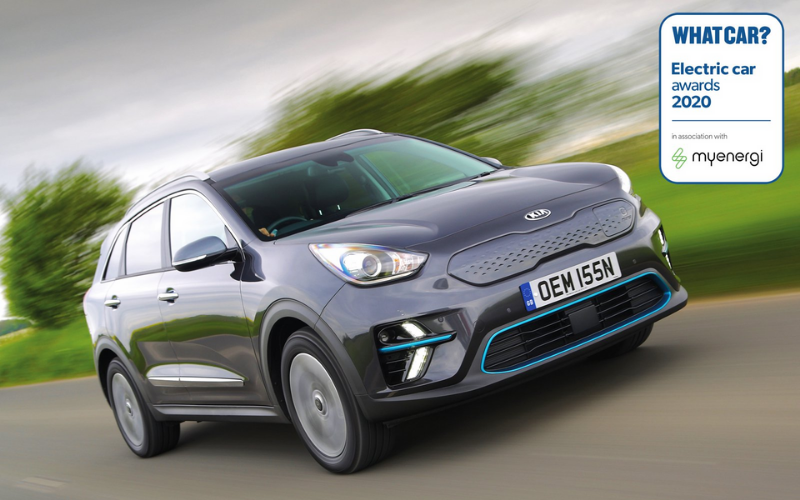 This year, What Car? have held their first ever 'Electric Car Awards', held in association with charging point provider Myenergi.
With more and more electric cars now appearing onto market, What Car? have decided to name their best models in every class. Because of its advanced technology and impressive range, it's no surprise that the incredibly popular Kia e-Niro has stolen the title of What Car? Best Electric Small SUV.
According to What Car?, UK motorists bought more than 30,000 fully electric cars during the first six months of 2020 – a 159% increase on the same period last year.
This trend is only likely to accelerate, with a recent What Car? poll revealing that 26% of people are more inclined to go electric as a result of the changed environment we're now living in. However, with the number of electrified choices growing all the time, it can be hard to know where to start.
When the Kia e-Niro won the What Car? overall Car of the Year title in 2019, it showed that uncompromised electric car ownership was no longer reserved for the privileged few.
With an impressive range of 253 miles on one full charge, the e-Niro proved capable of covering the same distance between charges as the much more expensive EVs.
What Car? commented: 'Unlike some small electric cars that are nippy around town but start to feel out of their depth at higher speeds, the e-Niro feels perfectly at home on the motorway; in fact, because it's so refined and can go so far between top-ups, it makes a fine long-distance cruiser.'
What Car? continued: 'It has more composed handling and a more comfortable ride than the Kona and Soul, too, while there's more space inside for occupants, although the Soul's boot is slightly bigger.
'[The Kia e-Niro] benefits from a long list of standard equipment, including adaptive cruise control, leather seats, a heated steering wheel and an impressive infotainment system with a 10.3-inch touchscreen.'
What Car? concluded: 'Although this category is getting increasingly competitive, the e-Niro has proved that it has real staying power.
'With an unparalleled blend of space, affordability and usability, it's going to be hard to beat.'
Available to order now, make your switch to something electric with the award-winning Kia e-Niro.
Alternatively, if you'd like to learn more about hybrid and electric vehicles, click the link below: