UK Cars To Include Mandatory Speed Limiters From 2022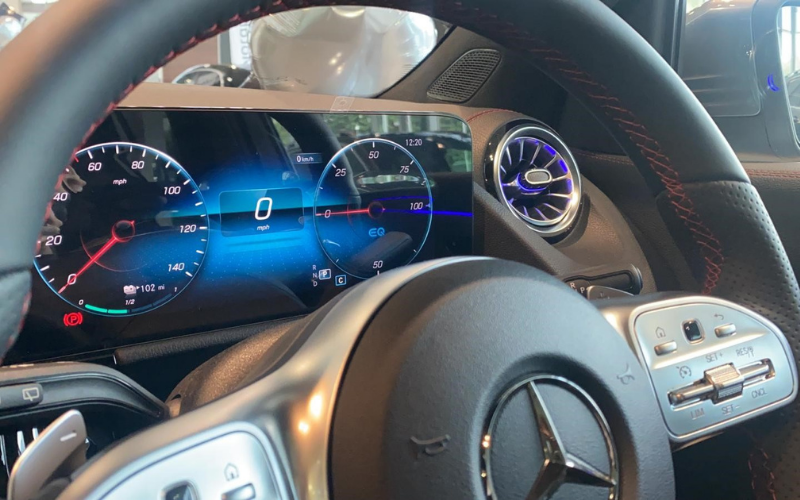 In a bid to boost road safety, all new vehicles sold in Europe from 6th July 2022 will be fitted with a mandatory speed limiter.
Despite the UK officially leaving the EU at the end of last year, it seems we're likely to adopt the same new speed limiting rules as our European neighbours. Since Brexit, the UK has retained most EU laws for new cars. By agreeing to implement mandatory speed limiters too, it helps standardise the car manufacturing process for different markets.
The European Commission actually came to a provisional agreement back in 2019, with the deadline for manufacturers now looming.
But what actually are speed limiters and how will they affect our roads here in the UK?
What is a speed limiter?
A speed limiter is a safety feature that inhibits your car from crossing a specific speed. This can be set by you or automatically determined by the zone you're in at the time.
From carpool karaoke jam sessions to practising spellings with the kids on the way to school, we know it can be easy to creep over the speed limit from time to time. That's where a speed limiter would come in – it'll keep you, your family and those on the road around you, safer.
Unlike cruise control, which keeps up a consistent speed throughout your journey without you needing to push the accelerator, a speed limiter allows you to accelerate and decelerate as you would normally, provided you don't go above the speed limit set.
How do speed limiters work?
Speed limiters work by restricting your engine's power and therefore the speed to a set limit.
The most common speed limiter technology is known as an Intelligent Speed Assistant (ISA), which employs GPS data and/or traffic-sign-recognition cameras to determine the maximum speed allowed where you are.
Limiters often send haptic, audio and visual warnings until you start driving below the speed limit.
An extensive range of manufacturers already include ISAs as standard (or at least as part of an available safety pack), such as, Honda, Toyota, Jaguar, Land Rover, Volkswagen, Mercedes-Benz, Audi, BMW, MINI, smart, Jeep and Kia.
Can you remove a speed limiter?
For now, the regulation permits you to switch your car's speed limiter off.
In years to come however, it's looking likely that vehicles within Europe will not present the option to turn their speed limiters off, and it may be a legal requirement for it to be in full, working order.
Why implement speed limiters in new cars?
Put simply, by introducing mandatory speed limiters, it's hoped that there'll be a reduction in road traffic accidents.
A recent report by Gov.uk revealed there were 1,472 fatalities and 23,486 serious injuries reported due to road accidents in 2020, despite a national lockdown spanning over four months.
The body that's been pushing for compulsory speed limiters, the European Transport Safety Council (ETSC), has predicted the legislation will reduce collisions by at least 30%.
The European Commission has declared that speed limiters (in addition to further measures included in the legislation) could prevent 140,000 serious road traffic injuries by 2038. Overall, they believe this new safety legislation could reduce road deaths to zero by 2050.
What other measures are included in this legislation?
The EU's 2019 agreement outlines additional safety equipment to be a mandatory part of a new car's build.
Further features include: autonomous emergency braking, data loggers (black box technology), emergency stop signal, driver fatigue detection system, lane keep assist, built-in breathalysers (which won't let you start your car if you fail), plus reversing sensors or cameras.
Here at Vertu Motors, several of these advanced systems already come as standard.
An autonomous emergency braking system, for example, is a notable requirement for a vehicle to score the maximum five stars in the Euro NCAP safety crash tests.
You can learn about some of the latest Euro Safety Tests conducted, here:
Volkswagen ID.4 Claims 5-Star NCAP Safety Rating
Land Rover Defender Awarded 5-Star NCAP Safety Rating
Kia Sorento Receives 5-Star Safety Euro NCAP Rating
What else can we expect?
The 2019/2044 regulation also dictates that all new cars (which have already launched) be fitted with an Intelligent Speed Assist (ISA) system by 7th July 2024.
Introducing speed limiters successfully would also be a step in the right direction in developing self-driving cars in the UK.
If you'd like to learn more about the possibility of autonomous driving, and even Mercedes-Benz's progress with their latest S-Class, read our blog on Why The S-Class Could Be The First Car To Offer Hands-Free UK Driving.
Fancy an upgrade to a model that already boasts the latest bells and whistles?
Use our New Car Searcher Tool to find the vehicle right for you, with a competitive deal to match: