Vertu Motors invests in its Mansfield dealership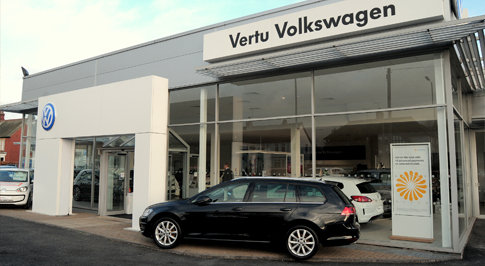 Vertu Volkswagen in Mansfield has undergone a £500,000 renovation as part of Vertu Motors continued investment to develop its portfolio of dealerships.
Extensive work has been carried out at the Nottinghamshire dealership to bring the interior up to modern standards. The showroom has had a full refurbishment to meet new Volkswagen corporate guidelines, which includes the installation of sofas and high quality furnishings to provide a more relaxed, cosmopolitan atmosphere, and reflect the lines and designs of the German motor giant's vehicles.
However, the changes at the dealership aren't purely cosmetic and include the addition of two new team members as greeters, whose role it is to welcome customers to the dealership and escort them to their area of interest; that's parts, sales or servicing.
The dealership's workshop has also benefited from the investment with the purchase and installation of brand new flooring and ventilation, as well as the appointment of a new mechanic, meaning that the workshop can now turn around jobs much more quickly and efficiently. A new roof delivers a more spacious working environment for colleagues with the added benefit of increased insulation coupled with economies in energy consumption.
Dave Allen, Director of Vertu Volkswagen, said: "The renovation comes at a crucial time in the motor retail industry. Customer behaviour is changing and alongside the traditional buying process a new digital-savvy consumer is emerging who is more informed than ever when entering the final stages of the buying process. They want to be in and out of the dealership in the shortest amount of time possible; they know what they want and what they're willing to pay.
"Vertu Motors has recognised this and is moving towards a more digitally-orientated and personalised customer experience at all of its dealerships. The Mansfield dealership now has interactive touchscreens, which customers can use to configure their own vehicle, customising every possible aspect to create a vehicle that reflects their wants and needs.
"We have to work hard to set ourselves apart from the competition and provide the best possible buying experience in those crucial last stages of the buying process. By transforming our dealerships into comfortable, welcoming and pleasant places, we can engage with customers and work towards securing sales."
Matt Scholes, General Manager of Vertu Volkswagen Mansfield, explains: "Everyone at the dealership is thrilled with the results of the renovation. It's a fantastic environment and a great place to work, everything looks very chic and modern. The installation of the modern furniture and interactive screens looks very sleek and professional, and reflects the quality of vehicles that we are selling.
"It's a very exciting time for us as we look to the future with the installation of new technology and the addition of three new members to our team. I'm sure the business will continue to go from strength to strength and grow."
Dave added: "This investment demonstrates Vertu Motors' continued commitment to investing and developing its colleagues and dealerships. We understand that we are in a fast moving business and need to evolve if we are to stay at the top of the industry."