Volkswagen Teams Up With Microsoft To Accelerate Automated Driving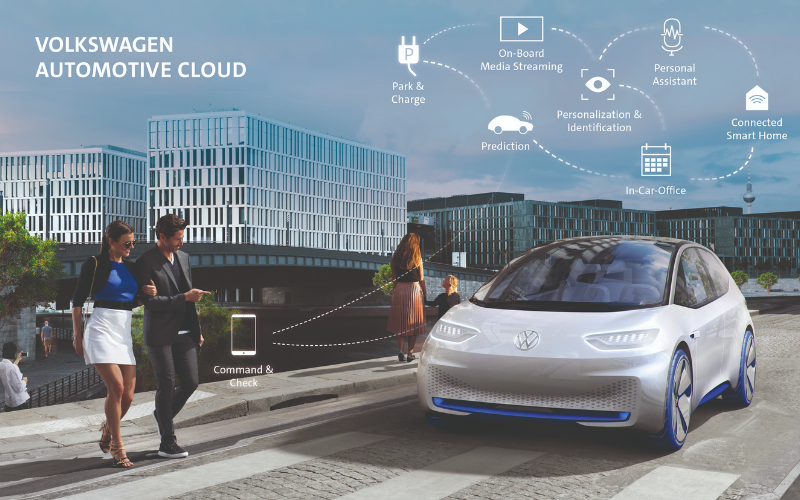 Volkswagen group has now partnered up with Microsoft to make use of the tech giant's cloud computing expertise, helping to develop self-driving cars more efficiently.
In order to speed up their progress with autonomous mobility, all Volkswagen 'self-driving' vehicles that are tested will be linked to Microsoft's cloud.
Even looking beyond electric cars and autonomous technology, the German automaker's ambition is to create a seamless experience for drivers from the moment they enter, use, and leave their vehicles.
Software developed in this storage cloud will then be 'beamed' straight into VW's cars, allowing them to learn and develop new functions over time.
From continuing to listen to the same music as owners enter the driver's seat, to making calls and checking calendar appointments, the Volkswagen Automotive Cloud aims to combine popular third-party applications into a smooth, unified experience.
Combining different applications to come together in a user-friendly manner is a challenge, which is where the partnership with Microsoft comes into play.
Previously, the Volkswagen group had made advancements in developing automated driving themselves, however, with the help of Microsoft's pioneering and evolving data transfer technology, they will reach their goal sooner than we thought.
The partnership will also help VW tackle one of their rivals' perceived advantages - the ability to do regular updates quickly and automatically.
That means Volkswagen vehicles will hit the road with confidence in an extensive self-driving ability, but then grow even more autonomous as years pass.
CEO of the Car Software Organisation for Volkswagen, Dirk Hilgenberg, noted: 'As we transform Volkswagen Group into a digital mobility provider, we are looking to continuously increase the efficiency of our software development.
'We are building the Automated Driving Platform with Microsoft to simplify our developers' work through one scalable and data-based engineering environment.
'By combining our comprehensive expertise in the development of connected driving solutions with Microsoft's cloud and software engineering know-how, we will accelerate the delivery of safe and comfortable mobility services.'
The Executive Vice President of Cloud + AI at Microsoft, Scott Guthrie, commented: 'This is the next evolution of our foundational work with the Volkswagen Group to enhance their transformation as a software-driven mobility provider.
'The power of Microsoft Azure and its compute, data and AI capabilities will enable Volkswagen to deliver secure and reliable automated driving solutions to their customers faster.'
We look forward to Volkswagen's rapidly approaching advanced technology, integral in future models that the brand is already popular for manufacturing.
Shop the latest and greatest Volkswagen range, here:
Keep an eye out for more Volkswagen news, right here in our newsroom.