Audi's Epic e-tron Superbowl Advert With Game Of Thrones Star Maisie Williams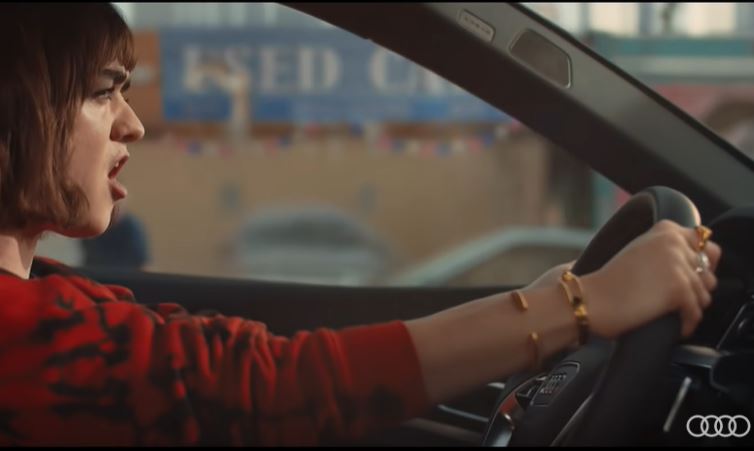 The Superbowl is infamous for showcasing adverts that feel like short Hollywood blockbusters – for the all-new e-tron Sportback 55, Audi pulled out all the stops.
Despite the American NFL Superbowl starting at 11pm and continuing through our night, the UK still manages to either stay up and watch, or catch highlights of the game, half-time show and notoriously theatrical adverts in the days following!
This year, Audi pulled out all the stops with a comedic, colourful and poignant advertisement for the all-new e-tron Sportback 55 – due to be released this year.
The advert includes superstar Game of Thrones actress, Maisie Williams (Arya Stark the ice-zombie killing hero), singing "Let it Go" from the movie Frozen. This is all whilst she's driving the newest Audi e-tron SUV.
Williams is initially stuck between heavily 'gas-guzzling' vehicles in busy traffic, sighing as she becomes more agitated at the obvious pollution around her.
She then breaks into song - full-blown musical-style – belting the Disney classic as she turns her all-electric e-tron around and away from the gridlock.
See the amazing 60-second advert for yourself, here:
The news of the new e-tron was announced at the Los Angeles motor show last year, revealing a sportier sibling to the original EV model.
The new Audi e-tron adapts to deliver the driver its best performance. With two electric motors, the Sportback can give an all-wheel drive when it might be needed (– this positions the new EV well for winter!)
The new e-tron also promises to pack an electrical punch too; with a power output of 300kW in boost mode, the Sportback should be capable of reaching 60mph in just 5.7 seconds!
The e-tron Sportback will offer great range as well; with a large electric power output the e-tron should charge quickly and last longer. Using a DC 50kW rapid charger – the kind found at most public charging stations – Sportback owners will be able to top up their e-tron's battery to 80% in under 30 minutes!
With a range of up to 240 miles on one full charge, the new Audi e-tron is set to be an EV that can keep up with any busy schedule.*
*This might alter slightly however, due to environmental conditions and the available charging installation.
Look out for the all-new Audi e-tron Sportback 55, coming very soon to Hereford Audi.
In the meantime, have a look at our amazing deals for the current Audi e-tron: