Did You See Martin And Roman Kemp In The New Volkswagen Golf Advert?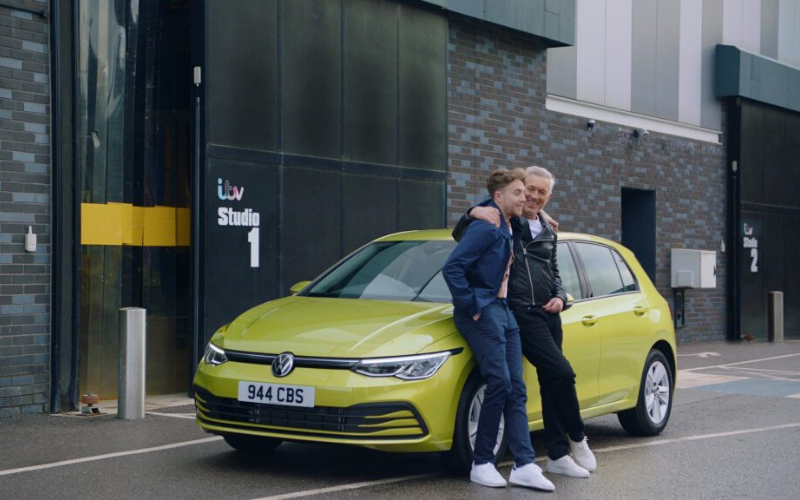 Prime-time Saturday night television saw celebrity father and son showcase the all-new 8th generation Volkswagen Golf, driving through some very familiar locations!
During the ad break of Alan Carr's new 'Epic Game Show' last Saturday night (June 6th), the new VW Mk8 had Capital Radio DJ, Roman Kemp, behind the wheel.
Roman drove and chatted to his dad, singer Martin Kemp, around some famous spots that ITV viewers would definitely recognise. To show off the new features of the updated Golf model, the Kemps drove through ITV Studio sets - seeing a few friendly faces along on the way.
We see them journey through some of ITV's most beloved shows. Their magical tour included the famous cobbles of Coronation Street, an unexpected encounter with Chloe Sims on TOWIE's Brentwood Highstreet and a detour through a reconstructed I'm A Celeb jungle.
The Golf has been one of the most successful European cars of our time. Although the outside of the all-new Golf 8 looks iconically recognisable, the inside has had a technological renovation.
Glyn Butterworth, National Communications Manager at Volkswagen UK, said: 'The Golf has been with us for almost five decades, and has long been the benchmark in its class.
'This latest eighth-generation Golf blends the familiar qualities and appeal of the old car but with cutting-edge technology and the highest levels of connectivity.
'Martin and Roman Kemp demonstrate just a few of these features in the advert, such as the natural voice control and mobile key. The Golf is unquestionably an icon, so how better to celebrate it than a road trip down some of ITV's most iconic streets, and even a jungle!'
If you'd like to find out more about the 2020 8th generation VW Golf, click here.
You can watch the full 3-minute advert, here:
ITV: 'Martin and Roman Kemp take a road trip they'll never forget to ITV Studios in the all-new Volkswagen Golf.'
[Filmed before Government guidelines for social distancing were in place]
The all-new 8th generation Golf is available now.
Here at Vertu Motors, our friendly team of experts are always on hand to help you find the best deal on a car that suits you.
Why not book a test drive at your local Vertu Motors Volkswagen dealership? Experience what makes the Golf 8 great for yourself.
View our great deals on the new Volkswagen Golf: