The New Defender Accessory Packs: Adventure Pack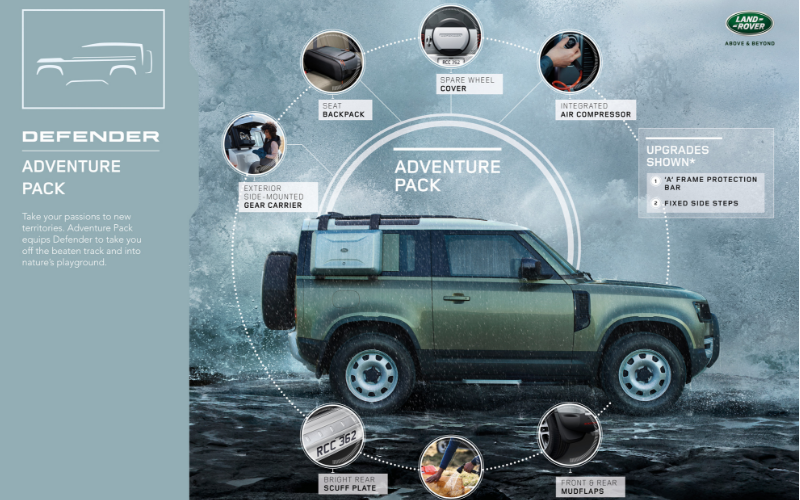 The new Defender is the most accessorised Land Rover ever produced.
There are over 170 individual accessories to choose from and 4 Accessory Packs to tailor your Defender to your lifestyle, which means there is a very slim chance of coming across 2 Defenders that are exactly the same.
You can purchase the accessories individually, but the Accessory Packs include numerous features, as well as creating a unique identity for your Defender.
The 4 Accessory Packs are:
>Adventure Pack
>Country Pack
>Explorer Pack
>Urban Pack
To help you decide which Accessory Pack is best suited to you, we're going to look into each pack separately, to see what they have to offer.
To begin with, we're going to focus on the Adventure Pack.
Do you enjoy living life on the wild side?
Are you and your family lovers of the outdoors?
Are you always planning weekend adventures whatever the weather?
Then the Adventure Pack is ideal for you.
Integrated Air Compressor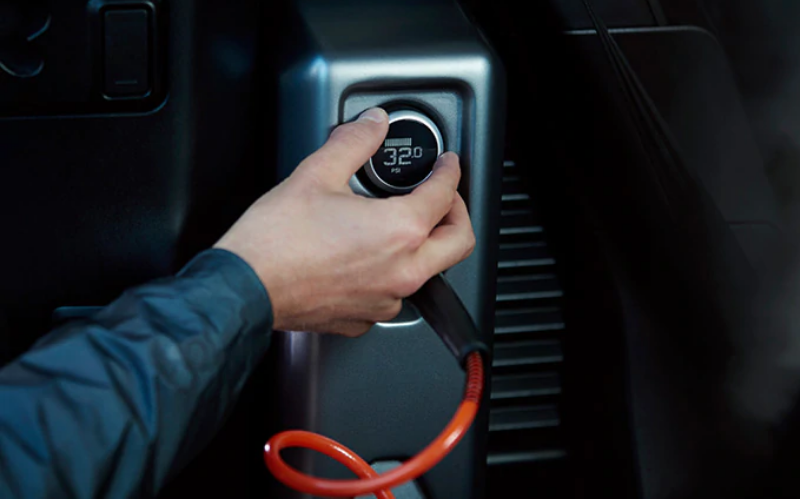 Ever arrived at the campsite to realise you've forgotten the pump to blow up the air beds? Or you're high up in the mountains and need some air in the tyres?
Well, with the Adventure Pack you will never have to worry again.
Located in the boot space, the Integrated Air Compressor can inflate anything from tyres to an air bed.
It's practical, functional and one less thing for you to have to try and remember when you're packing the car.
Exterior Side-Mounted Gear Carrier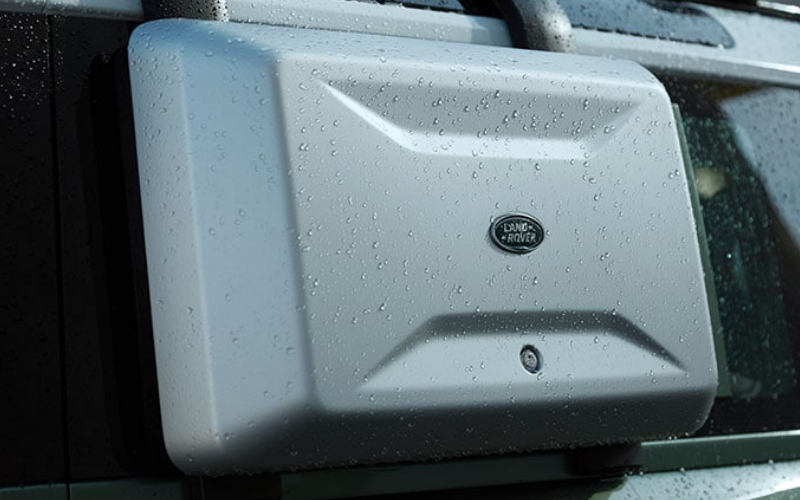 After a day of hiking in muddy terrain, there's nothing worse than trying to store your dirty or wet clothes without getting mud EVERYWHERE.
With the Adventure Pack, a lockable Exterior Side-Mounted Gear Carrier is included, which is a waterproof storage compartment to store your garments ready to put straight into the washer when you get home.
Portable Rinse System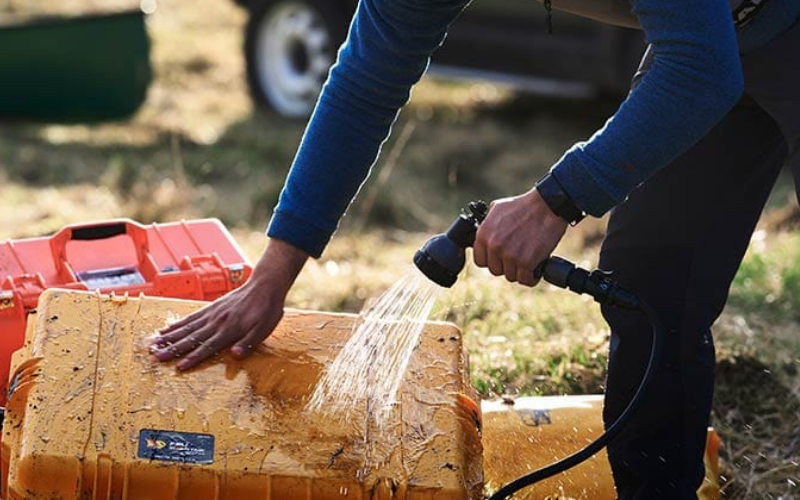 To avoid having to traipse mud into the interior of your Defender, a Portable Rinse System has been installed to allow you to wash down your walking boots, bikes and even the dog!
With a 6.5-litre pressurised water reservoir, just fill up from a tap or use the hand pump to get the water flowing.
Seat Backpack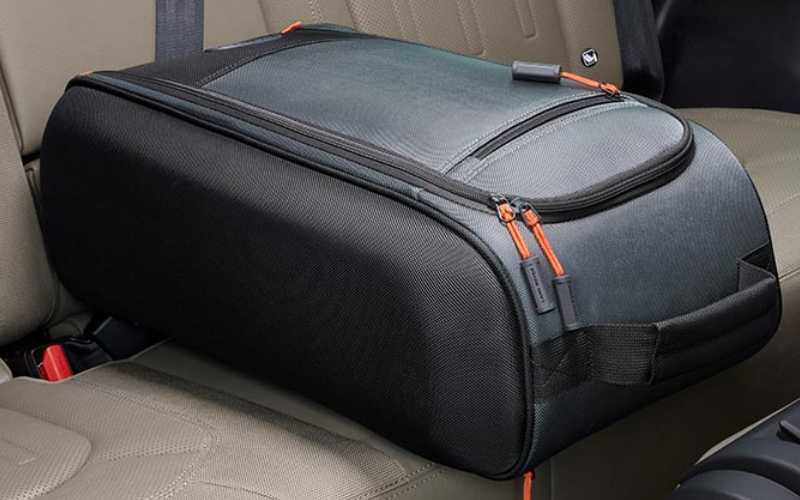 The Seat Backpack not only helps to save space in the boot by slotting into the middle back seat, but it is also easily removed to take on your adventures with you. And at 20 litres, it has lots of room for all your adventure essentials!
Spare Wheel Cover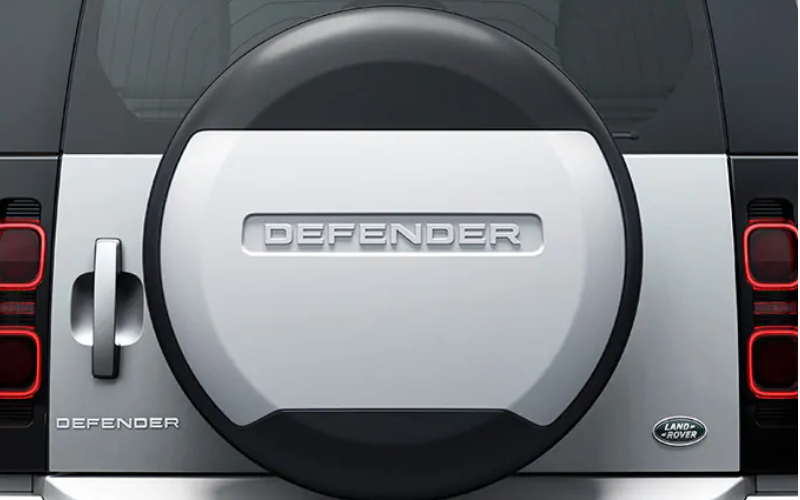 Keeping your spare wheel protected in all weather conditions, the wheel cover is a sleek addition to the exterior.
Bright Rear Scuff Plate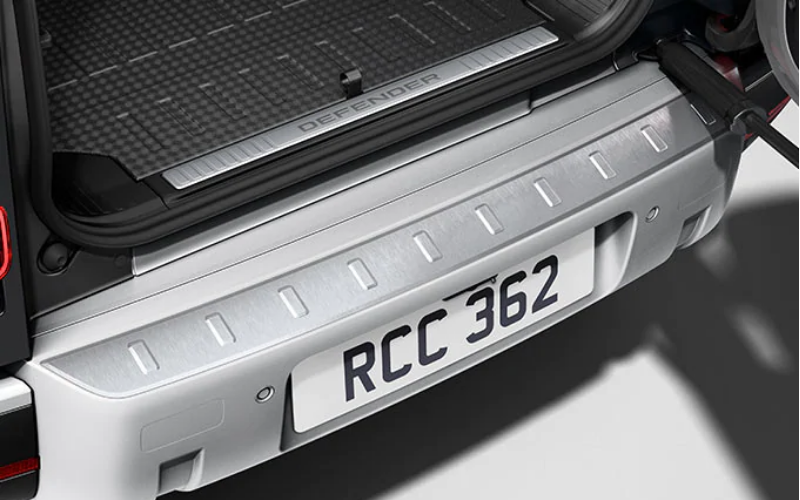 The Rear Scuff Plate is designed for added protection, to avoid any scrapes when loading up your Defender, or from scratches when driving off-road.
Front & Rear Mudflaps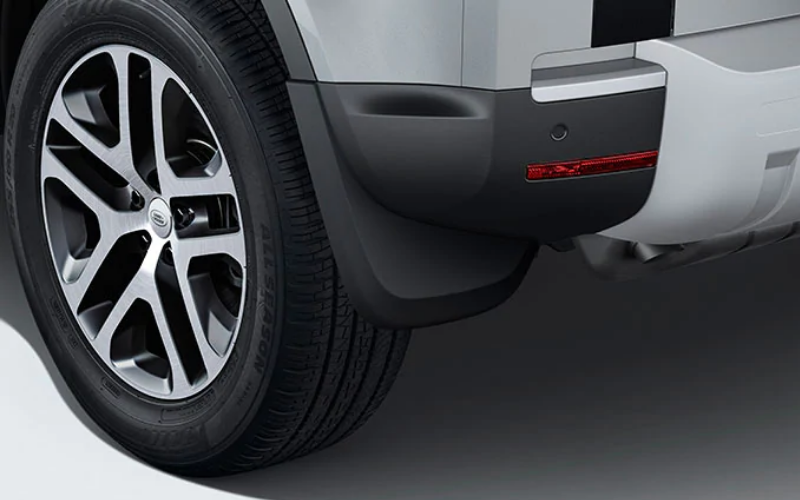 The mudflaps will be there to protect the paintwork of your Defender by reducing the spray of mud and debris.
The Lifestyle Collection: Adventure Pack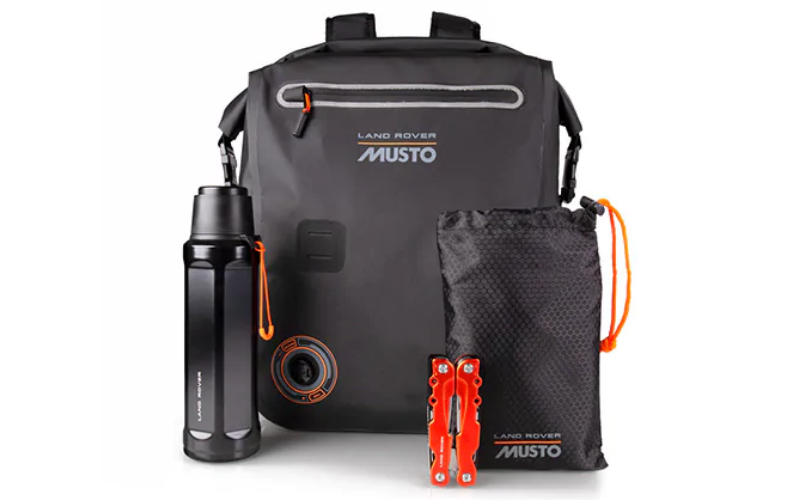 Now that your Defender is customised to suit your adventures, there's just you to kit out!
The Lifestyle Collection Packs feature customised packs to compliment the Accessory Pack you choose for your Defender.
For the adventurer inside of you, the Adventure Lifestyle Pack includes:
>Mirovia Seam-Sealed Backpack
-Microfibre Active Towel
>Multi Tool
>Flask
All these are constructed with technical fabrics and practical designs to accompany you in all weathers on your adventures.
In addition to the varied choice of accessories, you can also personalise the colour, roof and have a choice of twelve wheel options for your Defender to really blend it into the environment that most suits you.
For the Adventure Pack, the Pangea Green would really compliment the environment, and a sturdy contrast roof would be perfect.
So now that your Defender is set to take you to new destinations, your next adventure is ready to start.