Volkswagen Are Installing Free EV Charging Points At Tescos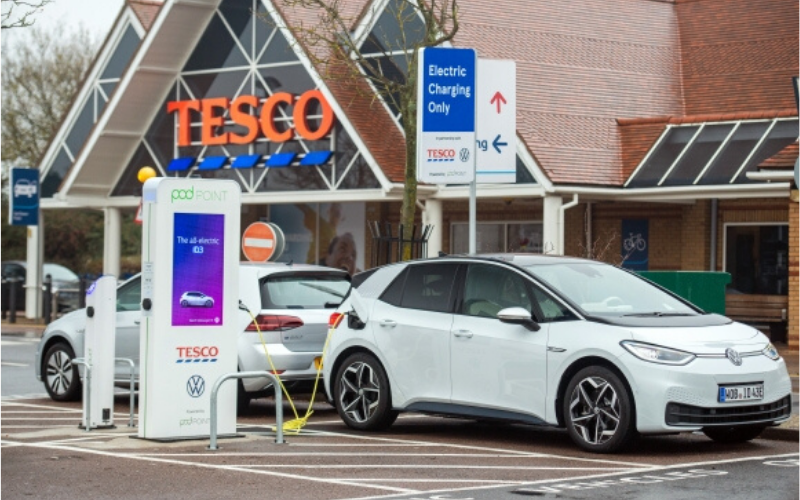 Volkswagen has announced plans to install 2,400 electric vehicle charging points across 400 Tesco stores nationwide.
With the rising popularity and growing range of fully electric, plug-in hybrid (and hybrid) cars now available, there has never been a higher demand for public charging points.
According to the Society of Motor Manufacturers and Traders, British sales of electric vehicles are up by 125% this year.
This demand is only expected to increase in the coming years, emission regulations are becoming tighter and the deadline for manufacturers to lower their count looms.
A survey conducted by Volkswagen on 2,000 UK motorists has revealed that 41% of them are considering leasing or owning an EV as their next vehicle.
Volkswagen have declared that their rollout of EV charging points is already underway - EV drivers at 100 Tesco stores are now able to top up their battery for free while shopping.
To make these charger users feel even more eco-friendly, all the electricity used to charge cars at the Tesco sites comes from renewable sources.
According to research conducted by Volkswagen, the average Brit spends 50 minutes per week in a supermarket.
If electric car owners were to plug in their vehicles for these 50 minutes they could get around 22.5 miles of free charging!
Over a whole year, this works out as 1,170 miles, the equivalent of driving from London to Rome.
Volkswagen's initiative has been happily welcomed by shoppers so far, with many of the wider public agreeing this is the right step into the future.
More than two thirds (68%) of UK motorists stated that they think companies in the UK should be doing more to encourage them to make the switch to electric cars, with six in ten adults agreeing that they are more likely to buy an electric car if they can charge them for free.
Geraldine Ingham, head of marketing at Volkswagen UK, said: 'Volkswagen literally means the people's car, and with the ID.3 we are making electric car ownership more accessible.
'This fantastic partnership with Tesco and Pod Point makes choosing an electric car even more attractive, allowing people to charge for free, all while going about their daily business.
'We are really pleased to help break down any remaining barriers to opting for an electric car.'
Jason Tarry, Tesco CEO added: 'We're now well on our way to achieving our ambition of installing more than 2,400 EV charging bays across 600 Tesco stores.
'Providing customers with charging points offers them a sustainable choice and giving people the opportunity to charge for free while they shop is another way to help make people's lives easier.'
To join the electric squad, check out our great deals for the new Volkswagen e-Golf, here at Vertu Motors:
You can check out our full range of new Volkswagens here:
To find your nearest Tesco that includes charge points, click here.