Volkswagen reveals initial shots of 2017 Polo R WRC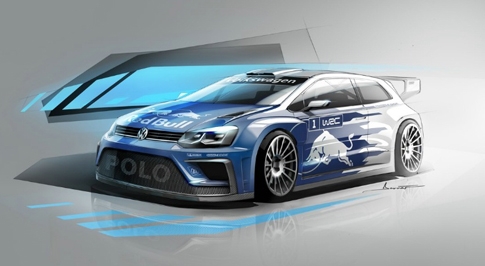 Volkswagen has released primary images of the 2017 Polo R World Rally Car, which gives an idea of how it could look when new technical regulations are brought in to WRC in 2017.
The German manufacturer has estimated that the car will produce 380bhp, which is roughly 60 more than the current edition. Other changes include reducing the weight of the Polo, while also making it wider and adding a more aggressive exterior design. The redesign has been underway since 2015, when the FIA announced they would be making changes to Word Rally Car regulations. In addition to it's 50mm widening and 25kg weight loss, the car's rear wing will increase in size, as well as the front spoiler, in order to provide a more eye catching, exciting appearance.
"The 2017 WRC regulations include many spectacular technical innovations for the World Rally Championship. The World Rally Cars of the future will incorporate all the experience that teams have gained in recent years. They will be considerably more dynamic, whilst at the same time being safer.", commented the Volkswagen Motorsport Director, Jost Capito.
The car will make its debut at Rally Monte Carlo in 2017.