Volkswagen Showcases 2017's Alltrack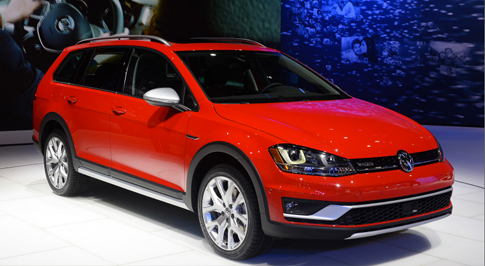 The new 2017 Volkswagen Golf Alltrack has made its debut, and is set to rival Subaru's Outback. Volkswagen is the first manufacturer to directly introduce a car to challenge Subaru, and is looking to increase its share of the SUV market.
The Alltrack runs on Volkswagen's impressive 1.8 litre turbocharged four cylinder gas engine, kicking out 170 horsepower with 199lb.ft of torque. Under normal circumstances, the Alltrack acts like a normal front-wheel-drive car, however when slippage is detected the 4MOTION all-wheel drive system activates, sending 50% of the engine's torque to the rear axles.
The car features on-road and off-road modes as standard. In off-road mode, hill descent controls are activated, and the traction control system is recalibrated. Additionally, the cars display screen shows steering wheel angle, a compass, and the car's current elevation.
Volkswagen hopes that this attractive new car, crammed with front runner tech and with sleek looks, will be a hit when it debuts next year. Having seen what it can do so far, it looks like they might be onto a winner.