A Vehicle Tour of the All-New Toyota Aygo X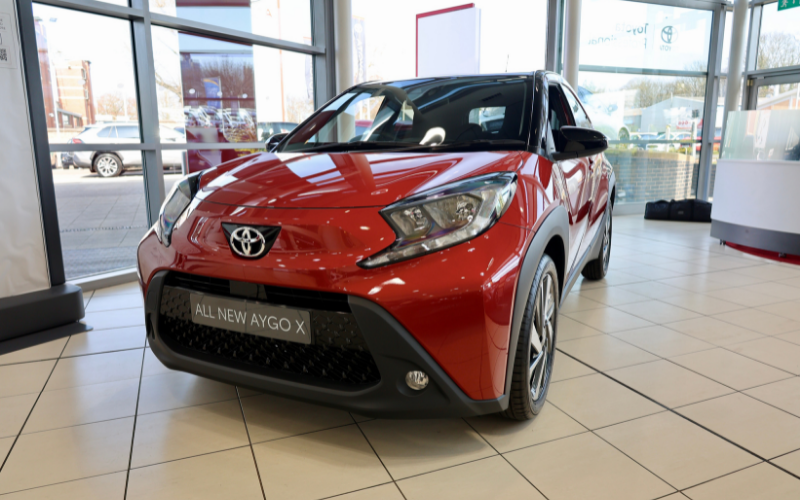 The all-new Aygo X has burst onto the scene and is ready to deliver a whole new city driving experience.
Watch our full vehicle tour below, or read on for more information.
Exterior
Chunky yet compact, a new body style makes the all-new Aygo X feel slightly SUV-like. With a raised body, high driving position and large alloy wheels it will certainly have a commanding presence on the roads - despite being a city car.
From the front, high-tech headlights sit tall on the bonnet and form a wing-like shape. Up top, the wedged roofline has been designed to improve dynamics, and a number of style accents around the vehicle, such as unique bi-tone colouring and privacy glass create a sporty aesthetic.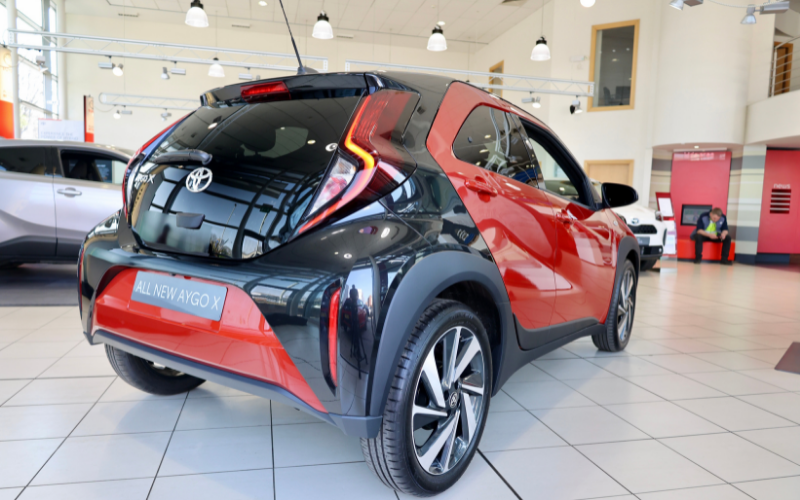 Plus, a new colour concept has been introduced by the design team at Toyota which helps to spice things up – quite literally. You'll be able to choose from a number of lively paint finishes, which include: Cardamom, Chilli, Ginger and Juniper.
Interior
The all-new Aygo X has a spacious interior despite its compact exterior. It's slightly wider than the AYGO, and those in the front will feel the difference, with ample head and legroom. In the rear, two adults will be able to sit comfortably too.
The all-new Aygo X has an attractive interior which features flashes of colour and ambient lighting to add some flair.
There are plenty of handy storage points throughout the cabin such as cupholders, phone trays, the glovebox and large door bins, so you needn't worry about things getting cluttered.
The 7-9-inch (depending on trim level) HD touchscreen sits in the centre of the dash. It's tilted towards the driver to make it super accessible without the need to stretch. You'll have DAB and FM radio pus smartphone mirroring with Apple CarPlay and Android Auto.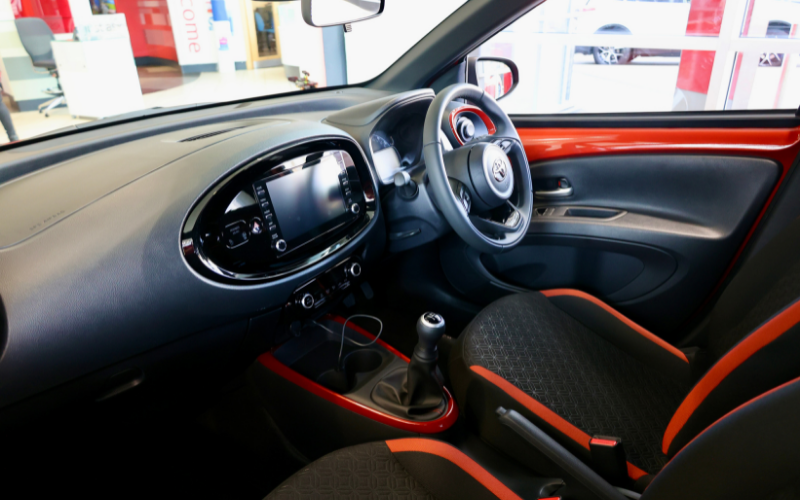 A handy smartphone app, MyT allows owners to connect to their vehicle wherever they may be, with information such as driving analytics, fuel levels, warning alerts and a vehicle tracker at your fingertips.
There is also a decent amount of room in the boot, with a capacity of up to 231 litres – that's 60 litres more than the AYGO.
Engine and Performance
The vehicle has been based on the GA-B platform that underpins the popular Yaris and Yaris Cross models.
The all-new Aygo X will be powered by Toyota's top-class 1.0-litre three-cylinder petrol engine, which is used on the current AYGO. It's a nippy car and will breeze through the streets at ease. The tight turning circle and generally compact size make manoeuvres simple – it really is great fun to drive.
It also comes with Toyota Safety Sense 2.0 technology – a suite of systems designed to prevent collisions. This includes a laser sensor and camera which work to identify other vehicles, animals, people or objects on the road ahead, sending an alert to the driver if necessary.
The all-new Aygo X proves that great things really do come in small packages.
If you're interested in finding out more, follow the links below.
Contact Your Local Toyota Dealer